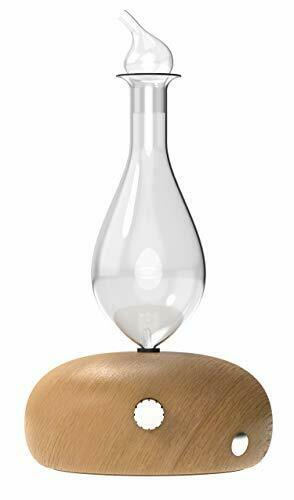 BRAND NEW
Orbis Lux Merus – Nebulizing Aromatherapy Diffuser
The Orbis Lux Merus diffuser comes with a natural, light beechwood, spherical base and a hand-blown glass bottle. Unlike most other diffusers, the Orbis Lux Merus contains no plastic parts that would corrode when in contact with the oils. With proper care, your diffuser can last for many, many years. ArOmis diffusers use no heat or water to function, keeping the essential oil in its natural state as it becomes a mist.
There are several options for the built-in timer function. You can set the timer to cycle the Orbis Lux Merus on and off every ten minutes before turning it off. This can set at 1 hour, 4 hours or 8 hours before the unit turns itself off. This timer setting is ideal for users who want to turn the unit on and just forget about it. Alternatively, you can set the unit to continuous operation with a 12 hour auto-halt function. Please select your preferred timer setting when ordering.
These units make amazing and memorable gifts as they are stunningly beautiful, hand blown pieces of functional art. They are also perfect for spas, message studios, yoga studios or for anyone who wants their 30′ x 30′ space filled with essential oil aroma.
FAQ:
· Q: What is the difference between all the different units?
· A: Functionally, all the units act the same. The differences are in the aesthetics of both the unit and the bottle.
· Q: What special equipment or oils do I need to run the unit?
· A: The only thing you need is the essential oil. The ArOmis Diffusers do not need any water or heat to function.
· Q: What kind of timers are on the unit?
· A: There are four options for timer:
o a) 10 minute on/off cycles for 1 hour
o b) 10 minute on/off cycles for 4 hours
o c) 10 minute on/off cycles for 8 hours
o d) Continuous operation for 12 hours
· Q: How do I clean the unit?
· A: With simple rubbing alcohol. See the videos on the website for detailed cleaning instructions.
Additional Equipment Rentals